Watch the full moon rise around 6:09 p.m. Do you get tripped up by the "moon illusion"? (Compare the size of the moon now to your fingernail held out at arm's length and again during the eclipse.)

The readily visible part of the eclipse begins at 8:43 p.m., when the left side of the moon glides into the curved umbral shadow of the earth.

Totality begins at 10:01 p.m. and lasts for 50 minutes. What color is the moon, and is the moon evenly lit?

At 10:51 p.m., the left edge of the moon whitens until the moon has broken clear of the dark shadow. The partial lunar eclipse ends shortly after midnight.

People with keen eyes may detect the subtle outer shadow (penumbra), but it's challenging.
What's happening?

Celebrate the eclipse and other celestial highlights at an all-ages public event in Mishawaka, IN. Astronomy enthusiasts will set up some telescopes in Toscana Park so you can see the moon up close, though lunar eclipses still look great with the naked eye. And as if a total lunar eclipse isn't enough, nearby in the sky will be other great sights, like Saturn and its majestic rings!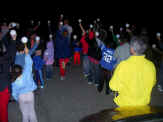 Step inside the main building adjacent to the telescopes, where we'll walk through several family-friendly demonstrations. One illustrates what causes eclipses, and then we'll figure out what causes that faint, second shadow (the penumbra) that is such a challenge to see. Or make an impact by blasting a crater out a simulated moon surface. Visually impaired visitors (as well as those thwarted by any clouds) can feel a tactile moon surface, which conveys the craters and mountains by the sense of touch. Children can make colorful moon masks to wear and take home. You can also duck into the Uptown Kitchen restaurant, which will be open with a partial menu offering. Think hot chocolate or coffee and a warm muffin--yum!
Feel free to bring your own binoculars or telescope, even if you just got one over the holidays or have one stuffed in the attic and don't know how to use it. Consider this a telescope amnesty. We'll do our best to get you comfortable with your scope. Once you find the moon, you only have to scan to the left a little to see Saturn nearby.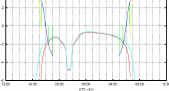 For the citizen-scientists in the crowd, we will lead a casual nationwide experiment to see by how much the moon's light is diminished during an eclipse. All visitors, young and old alike, are encouraged to take a reading of the sky brightness using a Sky Quality Meter (left) and to log their results. Getting a little more technical, a graph (right) courtesy of Jan Hollan shows the forecast for Mishawaka's lunar horizontal illuminance, provided the sky is clear.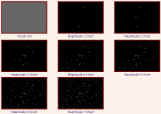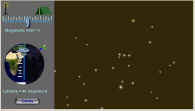 We will also introduce the international Globe at Night program, which is an opportunity to compare our local skies with those around the world by observing the Orion from February 25 to March 8, 2008. This is easy! You look at Orion and get a sense of how many stars you can see within the constellation. Then match your view to a star chart having a similar number of stars.
When is the action?
If you want someone to help you set up your telescope (old or new) bring it sometime after 7:30 p.m. We'll begin family activities that Wednesday evening around 8:00 p.m. Sure, this may be late for some kids on a school night, but the next total lunar eclipse won't be until December 21, 2010. Though the moon glides into the umbral shadow around 8:43 p.m., it may take a short while before you discern the darkness creeping across the moon. In the meantime, just before 8:15 p.m. there will be a fleeting sight in the sky, but you will see it only if you know where to look.
Another option is to arrive early and have dinner or dessert at the Uptown Kitchen before the night's events begin. Then you and your family can check out the rest of Toscana Park or simply walk over to the telescopes and activities when you're ready.
Where do I go?
Toscana Park is the new retail area about a quarter mile north of State Rte. 23 on the east side of Gumwood Rd. It's just north of the Martin's grocery store. Enter off Gumwood Rd. at the lighted (no glare) sign and wend your way around to the back parking lots. Please avoid aiming your headlights toward the telescopes while you are parking. The telescopes will be set up near the fountain on the central plaza (see map at right). When you first arrive, go inside the central building that is partially under construction. You'll find us.
What's the weather supposed to be like that night?
It doesn't matter. Cloudy or clear, we'll be there. If the weather interrupts the viewing, you can step inside, warm up, and join some discussions. We'll have several hands-on demonstrations and a children's activity inside regardless of the visibility, so bring the family. Check the PHM Planetarium Clear Sky Clock for a skywatcher's forecast. For great images that indicate current cloud conditions, see the ADDS satellite imagery.
---

eclipse-pix.htm
What does a total lunar eclipse look like? View a sequence of 21 high-resolution images of the 2004 total lunar eclipse as seen from South Bend, IN, courtesy of John Jung-Zimmerman.
---

More eclipse information, courtesy of Fred Espenak, is at
http://sunearth.gsfc.nasa.gov/eclipse/LEmono/TLE2008Feb21/TLE2008Feb21.html.
---
Why View from Toscana Park?
That's easy--the lights. In early 2006 when Toscana Park was being designed, developer Jerry Macri set a standard for all other regional developers. Macri met with neighbors and community organizations, listened to their concerns and ideas, and acted. One issue was outdoor lighting and how it would impact the local night. Nearby folks didn't want bright signage and parking lot lights shining into their homes and washing out the starry sky.
Macri and architect Larry Hupp envisioned a superior nighttime ambiance to support their village design. The result is some of the best outdoor lighting in St. Joseph County. When you visit, notice the absence of glare shining in your eyes and compare that to other retail areas. Notice how the lights don't waste energy by shining skyward, where they would only light up the clouds and bellies of birds. Notice how the parking lot is sufficiently lighted without being obnoxiously over-lighted. Notice how safe you feel when the critical areas like their parking lots and sidewalks are properly illuminated.
How did they do it? With an open mind. The street lights and parking lot lights at Toscana Park are fully shielded. That means the
light fixtures are tucked up in the light housing so that no light shines above horizontal. Sure, they had to shop around to avoid the common lights that are wasteful and annoying. But they did, and the improvement shows.
That's why we're setting up scopes there. We invite the community to ask about the outdoor lighting at Toscana Park, share your thoughts, and consider how you, too, can lessen your impact on the night sky. We're not trying to sell some particular brand of lights. We simply want to share the splendor overhead during a total lunar eclipse.
For more information on outdoor lighting issues related to retail development on Gumwood Road, see gumwood.htm.
---
What other events are in Michiana?
Lots of great astronomy opportunities are in the Michiana region in 2008.
February 20
Witness the total lunar eclipse from Toscana Park in Mishawaka.
February 22-24
A festival of Laser Light Shows comes to the PHM Planetarium & Air/Space Museum. Rock and roll!

February 25-March 8

Globe at Night invites your star count of Orion as we compare our view of this constellation from Michiana with the rest of the world.
March 5, 12, 19, & 26
Astronomy class for adults with Linda Marks in the PHM Planetarium & Air/Space Museum. See Astronomy/S08/506 in the PHM Community Education 2008 Spring Course Schedule
March 29
Earth Hour encourages everyone--businesses, individuals, governments--to turn off outdoor lights for one hour from 8:00 p.m. to 9:00 p.m. to promote energy conservation and awareness.
March 9 & 23
April 24
The PHM Planetarium & Air/Space Museum presents public planetarium shows on these Sunday afternoons during the school year. See the 2008 Show Schedule for show descriptions.
May 2-4
The Michiana Astronomical Society will host the Michiana Star Party at Potawatami Wildlife Park.
July 26-August 1
AstroCamp at YMCA Camp Eberhart in Three Rivers, MI, is a week-long stargazing adventure for kids.
Third Mondays of month
The Michiana Astronomical Society meets at the Mishawaka Public Library at 7:00 p.m. (Note: MAS is active, even though their website has server shortcomings.)
Ongoing
The Michiana Astronomical Society has an ongoing discussion for members at its MAS Yahoo Group.

All of 2009

2009 International Year of Astronomy!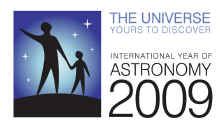 ---